If you are new to blogging and have a great blog or website, then I'm sure you want to keep track of your blog visitors. As you might have worked hard on
promoting your blog
, you now might be wondering if all that hard work is really paying off. That's where these tracking tools come into picture.
Tracking your visitors helps converting one time visitors to regular loyal visitors.
There are so many tracking websites that give you the statistics of the visitors to your website or blog. Google Analytics, Stat Counter, Site Meter, Hit Stats are a few and the most important ones.
Google Analytics
:
Google Analytics is on of the most popular analytic among webmasters. It is a free service that provides you with a graph showing how many people visited your site. The tool also lets you see which pages visitors clicked, how many unique visitors went to your site, and information on where the most people entered and exited. It's not nearly as advanced as other apps in this roundup, but it's certainly the easiest to use. If you want something simple and accurate, Google Analytics is for you. Google has recently introduced "Real time analytics" feature for the blogspot blogs.
Stat Counter
:
StatCounter is free, so you won't find much advanced help like you will in paid apps. But what it lacks in advanced features, it makes up for in customization. For any metric, the site lets you choose the time span of data you want to view. You can also decide which information should be included in the graph, how it's displayed (area or bar graph), and much more. You can create a fully customized chart to get minute detail on any traffic figure impacting your site. And since it's free, StatCounter is definitely worth trying out.
Site Meter
:
Site Meter's comprehensive real time website tracking and counter tools give you instant access to vital information and data about your sites audience. With the detailed reporting you'll have a clear picture of who is visiting your site, how they found you, where they came from, what interests them and much more.
Hit Stats
:
Histats.com sports the slickest design of any tool in this roundup. You'll find common tracking elements like page views, visitors, and referral information, but that's all displayed in the most user-friendly design I've seen in this space. The graphs are gorgeous. The app's ease of use is unparalleled, thanks to slick menus. And changing the data you want to look at is simple. I was really impressed by Histats (and its free price tag).
Which analytics tools are you using?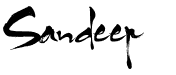 If you like this post, then please subscribe to my
RSS Feed
. You can also
Subscribe by Email
to get new posts directly to your inbox.