So now you have a blog and you want some visitors to your blog. You can syndicate your blog to grow your blog visitors. One of the best ways is to use Feedburner.
Feedburner is a great way to syndicate your content and get more people to read what you write. Feedburner offers a bunch of different services to help you build awareness of your content, keep stats on who is reading and even will help you with ways to monetize your blog.
Highlights of Feedburner:
There are a lot of tools to publicize your blog.
It allows you to automatically add links to social bookmarking sites like delicious, digg etc.
Provides email subscriptions to ypur blog.
Traffic analysis and statistics.
And much more.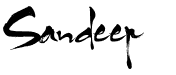 If you like this post, then please subscribe to my
RSS Feed
. You can also
Subscribe by Email
to get new posts directly to your inbox.