Are you good at writing stories? Or, Are you good at programming? Or, Are you good at web designing? Ok..let me come to the point. If you are good at anything and have a very good experience in that field, then you have great opportunities to make money as a freelancer.
What is freelancing?
Freelancing is providing content for a client/website. A freelancer is a content provider for clients/websites. The content can be an article, a short story or any audio/video etc..You can even write software programs. You can design a web site for your client.
Read the full article
here.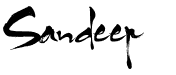 If you like this post, then please subscribe to my
RSS Feed
. You can also
Subscribe by Email
to get new posts directly to your inbox.