Want to know how your blog is doing on social sites like Twitter and Facebook?
Simply go to
twitter.labnol.org/analytics
, type the feed address of your blog (or any other web site that offers an RSS feed), and hit the 'go' button.
The tool will tell you exactly how many times your most recent stories have been shared on Twitter and Facebook.
Originally Published at
Digital Inspiration
by Amit Agarwal.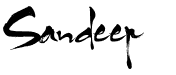 If you like this post, then please subscribe to my
RSS Feed
. You can also
Subscribe by Email
to get new posts directly to your inbox.