Hope you enjoyed my
previous post
on how you can promote your blog using social networking websites. I am going to talk about using Orkut to promote your blog.
Orkut is the most popular social networking site in Asia, especially India. It has some nice applications to promote your blog. Following are the ways you can promote your blog/website using Orkut.
You can keep your blog links in your profile.
Update your status with the links to your blog posts.
Post your blog links to different forums and communities on orkut which are related to the content of your website.
Orkut has a great application called "Promote".

Go to the

application

. You can find it at the bottom left side menu on your profile.
It's very easy to create a promotion for your blog here.
Enter the tile of your blog in the 'title' field of the application.
Enter some descripton along with your blog link.
After adding different elements to your promotion, the preview box will update to reflect your changes.
When you are satisfied with your promotion, click create promotion.
If your friends like your promotion, they can promote it to their friends and so on.
You can track your promotes. You can see the level it got promoted, clicks, howmany users sent it to trash. Also you can stop or delete promotion from it.
Do you have any other ideas on promoting your blog/website using Orkut? Please share them here.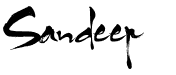 If you like this post, then please subscribe to my
RSS Feed
. You can also
Subscribe by Email
to get new posts directly to your inbox.